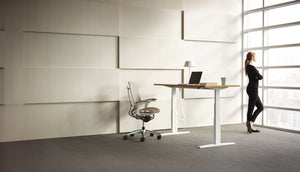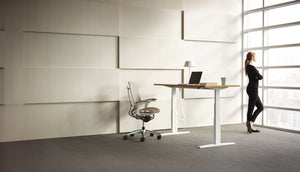 GRID
Elevating Desk Series
Which Elevating Desk is right for you?
With exceptional stability, looks, and speed, the Standing Desk makes an active workday easy.
Elevating desk PRO
Elevate Your Workspace
The Standing Desk makes movement an intuitive part of your day. Elegant design meets premium features like low-decibel motors, personal presets, and anchored leg columns for an inspiring work experience that supports your health.
More range and more power.
Dual Motor Setup | Height-adjustable from 27" to 48" | 4 programmable settings | Upgraded electric dual motor | Quieter at just 40 dB | Improved load capacity of upto 100kg | Natural processed wood tops and classic finishes | Solid steel frame

The best one yet.
• Stronger
Lifts a cool 100kg with ease.

• Quieter
How does 40 dB sound? It doesn't.

• Taller
26.2" to 48". That's some range.
Year Long warranty
Powered by our latest dual-motor steel frame, the Pro will support your very best work for years to come. Globally vetted for strength and safety by UL, BIFMA, and EMC.Elevating Desk  Pro's improved lifting column is powerful enough to support all of your work tech & more.
GRID ELEVATING DESK
Foundation for Flexible Work
Our coated steel base, two-stage columns and adjustable feet eliminate oscilation and ensure stability on any surface. EasyGlide motors make adjustments fast but smooth enough not to spill your coffee.

Impact resistant melamine top in woodgrain or white
No coffee spills: electric motors for a smooth raise
Two-stage lifting columns for incredible stability
Find the perfect height with centimeter-level adjustment
Good for:

Encouraging movement and energy during the workday

Curing procrastination (results may vary) with great design
Elevating Desk Pro (L-Shaped Table)
the ultimate electronic height adjustable table, designed to elevate your productivity and comfort to new heights. With just the click of a button, this remarkable table effortlessly transitions from a convenient 25" height to an impressive 50" height, granting you full control over your workspace.

Powered by three motors seamlessly integrated into its sturdy legs, this table boasts a whisper-quiet operation. Emitting less than 40 dB of noise, it creates an environment that feels almost noiseless, ensuring minimal distractions and maximum focus.